Notification Formats
There are two formats of notifications that are received on the Shyft application. Push Notifications are received outside of the application and direct a user to a specific post or feature inside the app. In-App Notifications are stored in the Notifications tab and act as a record of all the ongoing activity taking place at the location that is relevant to a specific user.
Other types of system alerts and messages may be received by users in the application. If, for example, a user attempts to cover a shift without a network connection, they may get an alert that something went wrong or a notice that they do not have a network connection.
Push Notifications
Push Notifications include pertinent information such as the name of the poster, the group content was posted to, the shift start and end time, and the shift type. There are more than 150 unique push notifications in the Shyft application, all of which are designed to keep users informed about scheduled shifts, shift broadcasts, covering shifts, approving shifts, and different action steps for all of the parties involved.
The following is a brief list of some of the notifications received by users in the app. Some notifications apply to all users, while others only apply to Admins. Users will only see push notifications that are relevant to them and can control which ones they receive in their app settings.
Scheduled Shift Starting Soon

Schedule Shift Call Off

Team Shift Posted

Team Shift Covered

Team Shift Approved

Team Shift Denied

New Shift Comment

New Application Comment
Open Shift Posted

Open Shift Covered

Open Shift Approved

Open Shift Denied

VTO Posted

VTO Covered

VTO Approved

VTO Denied
In-App Notifications
In the Notifications tab, Users will see a list of all notifications they have received. The top of the list is sorted into New and Earlier. All notifications received within the last 2 hours will be sorted into the New section. Notifications that have not yet been read are highlighted in blue, differentiating between notifications that have been viewed.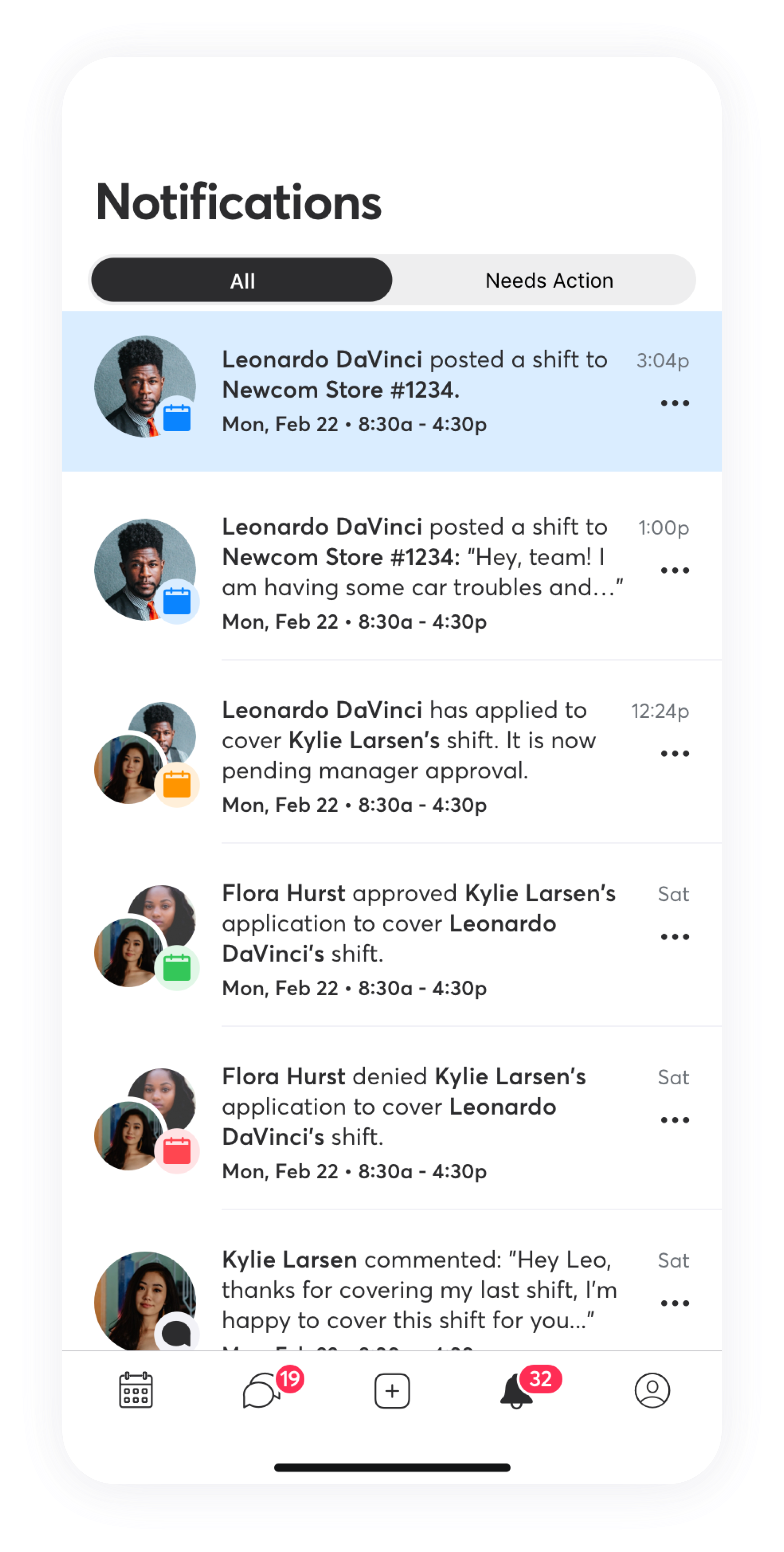 Users will see an avatar of the primary individual, the username, the shift time, and any message attached to the notification. The status color on the avatar icon indicates the type of notification, and matches the status color on shift card tags. Blue indicates Open or Posted, Yellow indicates Pending, Green indicates Approved, Red indicates Denied, and Black represents Scheduled and Comment based actions. To clear a notification, tap on the ellipses icon on the right of each notification, and then tap on Remove Notification.